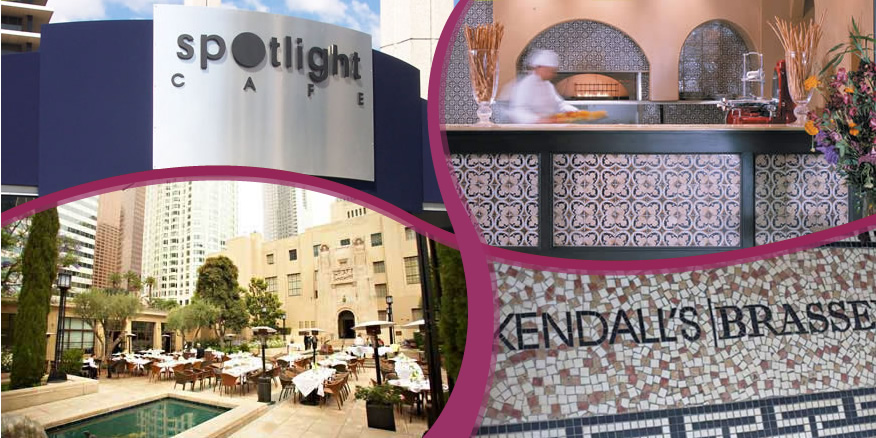 Restaurants
Patina Restaurant Group
Founded on the belief that culinary excellence is an art form, per se, and museums, cultural centers and art-filled landmark locations provide the ideal environments for experiencing this level of quality and service.
Chef Joachim Splichal Founder, Patina Restaurant Group
Celebrated by Bon Appetit and Food Network as "Restaurateur of the Year," Joachim Splichal has been a leading force behind Los Angeles' growth into one of the world's premier dining capitals. Joachim has developed a devoted global following as one of the most talented chefs on the American culinary scene, a true master of innovative cuisine and playful perfectionism.
Nick & Stef's Steakhouse 2009 Wine Spectator Restaurant Award Winner!
Voted "best steakhouse" in downtown Los Angeles, Nick & Stef's serves superb dry-aged steaks, fresh seafood and delicious signature side dishes.
Kendall's Brasserie
Kendall's brings a fresh approach to brasserie cuisine with inspired seafood dishes and updated French favorites.
Zucca Ristorante 2009 Wine Spectator Restaurant Award Winner!
Voted "Best Italian Restaurant" in Downtown Los Angeles, Zucca's elegant interior reflects the rich cultural heritage behind the tantalizing menu of handmade pastas, meats, fresh fish, fine Italian cheeses and wood-fired Neapolitan pizzas.
Café Pinot 2009 Wine Spectator Restaurant Award Winner!
Enjoy a contemporary Californian menu featuring fresh, sophisticated dishes inspired by the farmers' market as well as a daily rotisserie.
'Tina Tacos
Enjoy authentic Mexican tacos at our gourmet taco stand. Daily lunch specials include our delicious quesadillas and signature al pastor tacos.