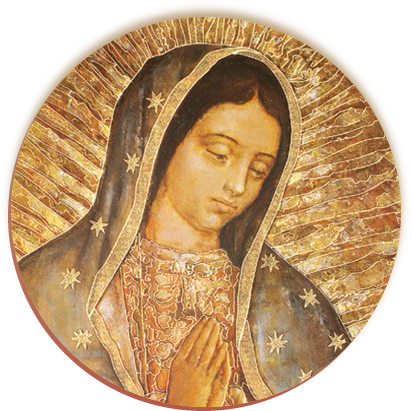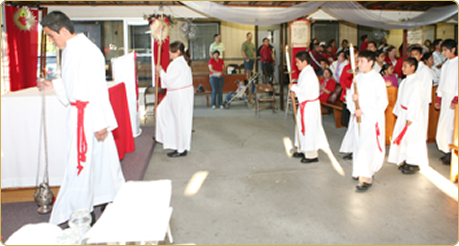 Welcome to Sargado Corazon Y Santa Maria De Guadalupe!

Ver Página En Español

April 8, 2010 Thursday


Mass Schedule

Saturday:
7 pm Vigil Mass

Sunday:
7:30 am, 9 am (EN), 11 am,
1 pm, 6pm

Holy Days:
9 am (EN), 11 am, 1 pm, 6pm

Weekdays:
9am, 7 pm
No Mass on Wednesdays

Monsignor Henry Gomez from the neighboring church of Saint Gertrude in Bell Gardens presided at Masses at various locations on Florence Avenue or wherever a place could be found to accommodate the crowds who wanted to worship.

Before the establishment of the parish, the doors to the "Roman Catholic Mission in Cudahy" opened in 1990 when Bishop Carl Fisher found a nearby Methodist Church that was selling property.

In 1992 the Missionaries of the Sacred Heart of Jesus began administering the Parish. The official establishment as Parish came on January 18, 1998; and with the establishment came a name change to Parroquia del Sagrado Corazon y Santa Maria de Guadalupe.

"The Small Church on Clara Street" as it is commonly known to the majority of the community soon grew in attendance and made the small church inadequate, and parishioners built an additional open-air platform for more space. There are currently 875 registered families, and about 150 non-registered families. About 500 baptisms are celebrated a year and fund raising efforts begun to build a new church.

Our Church project is divided into three phases. The first phase, consisting of a parking lot, was completed on Friday, February 12th, 2010. A lot of effort has been put into the project and the Second Phase, consisting of the new Church, Classrooms, and Offices, is programmed to begin by the end of 2010.