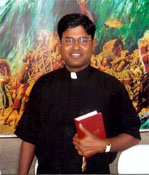 Name : Rev. Fr. Dominic Kennedy Arputham
Date of Birth : 26-03-1970
Place of Birth : Sadayam patti, Tamil Nadu, India.
Diocese : Diocese of Thanjavoure, Tamil Nadu, India.

Qualifications: M.A. [English], BTH, PGJD, M.A. [Journalism].
Field of Interests : Writing, Media, Preaching and Youth and Family Counseling.
Mission : Nobody is orphan in the world as God the father is the loving Guardian of all of us. To help the orphan, handicapped and abandoned to feel that they are loved and cared by God through all of us.
Parents : Mr. Arputham pillai/ Mrs. Amalorpava Mary.
Brothers and Sisters: Three brothers and no sisters
1. Mr. Venancius
2. Mr. John Bosco
3. Rev. Fr. Arul Raj - 1964 - 2007
Father Raj Biography
Address: Rev. Fr. Dominic Kennedy Arputham
Corpus Christi Parish
880, Toyopa Drive
Pacific Palisades, Ca-90272.
E-mail:domarputham2000@yahoo.co.in
Phone: +1-310-230-0516
Fax: +1- 310-454-1328.
Ordination : 04-28-1998